Berks County pandemic information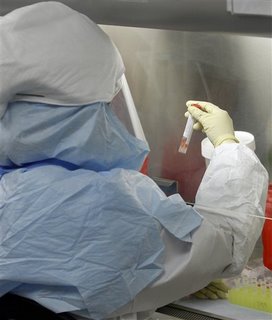 READING — Berks County is ready, whether the next big pandemic is the swine flu or another form H1N1influenzavirus, according to the county's Department of Emergency Services.
With the growing concern over the spread of swine flu, the county has partnered with the Red Cross, the county Pandemic Advisory Council, Reading Hospital and Medical Center, and St. Joseph's Medical Center to prepare itself and put procedures in place in case of a pandemic reminiscient of the 1918 flu.
"The partnership maximizes the strengths of each organization to ensure that our community is provided with the best information and assistance possible given this rapidly evolving threat," Emergency Services said in a press release.
"Daily interaction is taking place among these key community players, the Pennsylvania Department of Health (DOH), and the Pennsylvania Emergency Management Agency. The situation is being monitored closely, and local activities will be modified to coincide with the recommendations from DOH public health experts," said Emergency Services.
"DES believes that it is critical that every resident of Berks County realizes that they have a role to play in bringing this public health emergency to a swift end. One individual in the right circumstances, if properly educated, can have a significant impact in halting the spread of this, or any respiratory illness. That same individual, properly prepared, can lessen the impact to the community as a whole by being self-sufficient during an emergency," the press release read.
The Emergency Services department wants Berks residents to know who to contact and where to go in case of an outbreak:
Berks County Department of Emergency Services: In charge of coordinating efforts in emergencies, along with response and recovery. Information on how the community should react during a pandemic is available on the Emergency Services' Web site, www.berksema.com. A Pandemic Plan is also available on the site and should be read by all residents. The main role of Emergency Services is to "act like a conduit for information to and from the states and federal government to local entities."
Berks County Chapter of the Red Cross: Its role is to prepare individuals, families and groups to be better prepared to protect themselves in times of disaster and provides relief efforts to communities. Questions about personal preparedness can be answered by calling 610-375-4383 or visiting www.berks.redcross.org.
Berks Pandemic Advisory Council: The purpose of this organization is to promote greater public awareness about the hazards of a pandemic. It has worked for the past two years on creating a plan on how to "mitigate the social and economic disruptions that a pandemic could bring about." Members can conduct presentations to community groups and businesses on pandemic awareness and prevention. For more information, call 610-374-4800, ext. 8289, e-mail panflu@countyofberks.com, or visit www.flutoolbox.com
Reading Hospital and Medical Center and St. Joseph's Medical Center: The two acute care facilities in the county are the heart of the county's response to a pandemic. Both have invested time and money into preparing their staff's for a potential pandemic. They have "developed contingency plans and stockpiled medicines and protective gear to allow their medical and support staff to continue to service their patients as efficiently as possible."